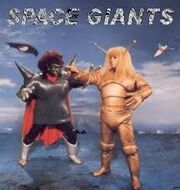 Space Giants is the very first live-action kyodai hero show that even predates Ultraman. What's different from this show from the rest of the kyodai shows is that the different stories keep continuing through 4 episodes..... more to come
Most of the kaiju in the show has their Japanese names changed for the U.S. dub.
list of Kaiju: Japanese name (U.S. name change)
Moguness (Molesaurus)
Birdora (Birdaurus)
Frenix (Zandosis)
Aron (Taron)
Gareon (Ranautis)
Drox (one of the few characters who didn't get it's name changed)
Stopgon (Noronda)
Dakoda (Vacuma)
Black Giant (Gor)
Teravarden (Gorda)
Pidora (Nardo)
Sangiras (Claw)
Grania (Dilas)
Balzas (Ghana)
Jigira (Magno)
Umibozu (Gonda)
Kanix (Lodi)
Kindora (Rada)
Goa Gongon (Kono)
Community content is available under
CC-BY-SA
unless otherwise noted.